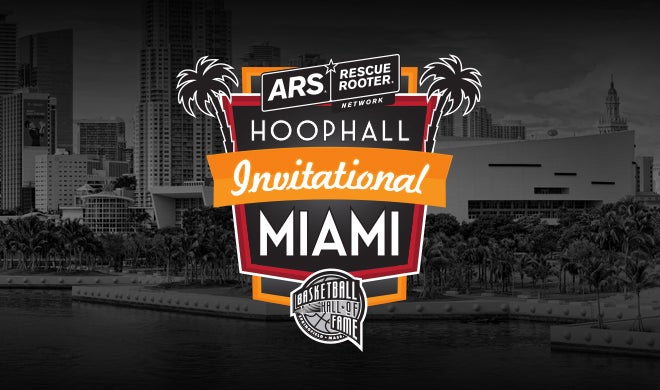 Hoophall Miami Invitational
Event Details
FRIDAY, NOVEMBER 27, 2015
Games at 5:00 pm & 7:30 pm (*Game times are subject to change & are based on ESPN broadcast times)
IMPORTANT ADVISORY: PARKING
With the ongoing growth and development of downtown Miami, fewer parking options in the immediate area surrounding FTXArena will be available to arena guests. A number of parking lots located directly adjacent to the facility have been permanently eliminated. Patrons are strongly advised to consider alternative parking options, which include a variety of lots offering a flat rate and within a convenient walking distance of the Arena. Click here to learn more.
Click here to see the map.

Onsite Arena Parking:
Arena Valet: Pre-paid Valet Parking - $40.00 per car, based on availability. Click here to reserve.
Valet is available at $40.00, night of event, based on availability.
Garage Parking: Limited public parking is also available for $25.00 per vehicle in the Arena's P2 Garage on a first come, first served basis, and based on availability.
PARKJOCKEY: BOOK YOUR PARKING NOW!
ParkJockey: FTXArena's official partner ParkJockey now allows you to reserve a parking spot in advance, and pay the same or less as you would with cash on the spot!

Book your parking now!
---
GENERAL INFORMATION
For your safety and enjoyment, please read the following day-of-event information.

Guests should arrive early and travel light, as all guests and bags entering the Arena are subject to search.

Tickets will not be valid via Mobile Devices. To avoid delayed entry, please print your tickets prior to arrival.

Camera policy:
Small instamatic cameras are permitted with lenses 6" or less. Video Cameras or Audio Recording Devices are not permitted.

Prohibited Items: iPads, Selfie Sticks. Signs bigger than 8.5" x 11" are prohibited. Gifts will be collected at doors and must be unwrapped.

Special Effects: Smoke/Haze, Strobe Lights.
---
Dine With Us
Stands: Prime Grill 105, 117, 308, 324, Chicken Ciao 108, Downtown Dog 112, Papa John's 113
Carts: Popcorn 101, Papa John's 310, 323, Donuts 108, Nuts 112, Kosher 116, 314, YoBlendz 112, Haagen Dazs 108 & 120, Gyros 120, 325 & Panna Express 122, 308
Bars: SE Vom Bar, 102, 104, Grey Goose 107, 109, 111, 113, 114, Bacardi Bar 118, 121, 123 & 319
Beer Portable: 101, 108, 110, 111, 114, 116, Moet 117, 123, 124, 304, 319 & 326
---
Stay & Play in Downtown Miami
Save 20% at the EPIC HOTEL - Offer Code: ARENA