BAD BUNNY ANNOUNCES HIS "MOST WANTED TOUR" COMING TO KASEYA CENTER FOR THREE CONSECUTIVE NIGHTS
Performing at Kaseya Center on Friday, May 24 through Sunday, May 26, 2024 REGISTER NOW TO ACCESS TICKETS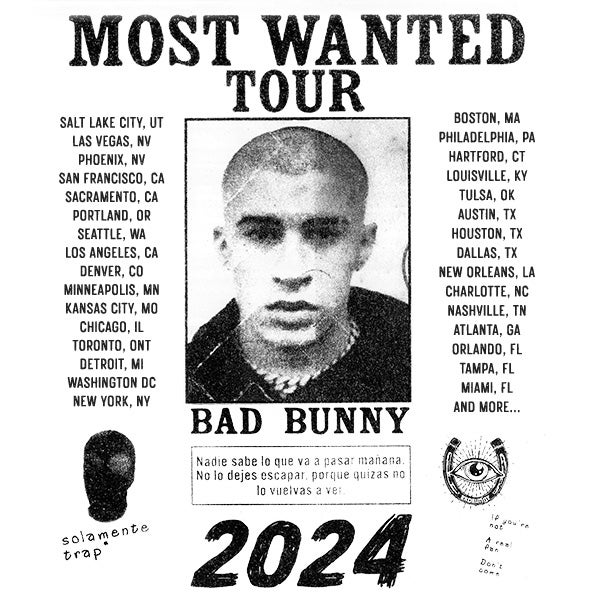 Following his long-awaited return to the genre that put him on the map, Trap, global recording artist Bad Bunny announces a 2024 tour – Most Wanted Tour – with a staggering 47 shows where fans will enjoy him in a more intimate setting. Promoted by Live Nation, the 31-city North America arena tour kicks off on Wednesday, February 21 in Salt Lake City, UT, with multiple nights in Las Vegas, Phoenix, San Francisco, Austin, Atlanta, Orlando and more before wrapping up with three consecutive performances at Kaseya Center in Miami, FL. An experience curated for day-one fans, Most Wanted Tour will be a rollercoaster of explicit lyrics that hones in on the star's trap roots, so parental discretion is advised.
After becoming the top touring artist in 2022, the 3x GRAMMY winner took a break from the stages in 2023 with exceptions like Coachella, the GRAMMY awards, and the Latin Billboard Awards. Promising to bring fans an unparalleled spectacle in 2024, the Most Wanted Tour will give attendees a more intimate experience than his previous tour and give life to his latest studio production with the legendary and high-energy stage presence he's known for. With unprecedented success that has taken the world by storm, Bad Bunny's tour is expected to be one of the most sought-after concert events of the year.
Last week, Bad Bunny made history with his new album, "nadie sabe lo que va a pasar mañana," as it became the most-streamed album in a single day in 2023 so far on Spotify. The album has amassed more than 900 million streams and its lead track, "MONACO" hit #1 in 16 countries on Spotify. Beyond streaming success, the album marks his impactful return to his Trap origins and seamlessly blends traditional trap elements with innovative sounds and lyrics. On the eve of the album release, he hosted a listening party at the iconic Coliseo de Puerto Rico. Selling out in minutes and drawing in 16,000 fans, the event featured a star-studded guest list which featured Arcángel, Bryant Meyers, Feid, La Paciencia, Mag, Mora, Ñengo Flow, Tainy, and Young Miko.
TICKETS: Fans are encouraged to register ahead of tickets going on sale for access. Registration is live now until Sunday, October 22 at 11:59 p.m. EST at https://registration.ticketmaster.com/badbunny2024.