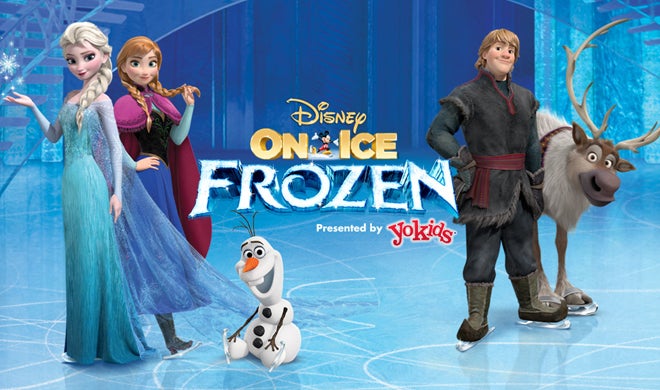 Disney On Ice presents Frozen
Presented by Stonyfield YoKids Organic Yogurt
Event Details
Important Travel Advisory
Valet is available at $30.00, night of event, based on availability.
Garage Parking: Limited public parking is also available for $20.00 per vehicle in the Arena's P2 Garage on a first come, first served basis, and based on availability.
Additional parking is available within a short walking distance.

Click here to see the map.
---
ParkJockey: Book Your Parking Now
ParkJockey: FTXArena's official partner ParkJockey now allows you to reserve a parking spot in advance, and pay the same or less as you would with cash on the spot!

Book your parking now!
---
GENERAL INFORMATION
Guests should arrive early and travel light, as all guests and bags entering the Arena are subject to search.
To avoid delayed entry, please print your tickets prior to arrival. Tickets may not be valid via all Mobile Devices.

The FTXArena recommends that guests with children under the age of two (2) years old bring proof of the infants' age with them to expedite entry. Valid forms of identification are a government-issued birth certificate or passport. Guests 2 years of age and older must have a ticket to enter the Arena. Re-Entry to the Arena is prohibited.
Camera policy: Small instamatic and video cameras will be allowed. No professional cameras, or laser pens will be permitted.

Prohibited Items: No strollers will be permitted inside of the Arena. For your convenience, stroller check is available at Gate 2. No Lasers pens allowed.
---
DINE WITH US
Enjoy a variety of fan favorites on the Main Concourse.
March 30th
Stands: Prime Grill 105, 117, Downtown Dog 112 & Papa John's 113
Bars: Grey Goose 107, Bacardi Bar 118
Carts: Frozen Yogurt 112, Donuts 108, Nuts 112, Kosher 120, Haagen Dazs 108 & 120, Gyros 120, Panna Express 122, Papa John's 310 & 323
March 31st
Stands: Prime Grill 105, 117, Downtown Dog 112 & Papa John's 113 (Only these highlighted locations will be open for the school show)
Bars: Grey Goose 107, Bacardi Bar 118 (evening show only)
Carts: Frozen Yogurt 112, Donuts 108, Nuts 112, Kosher 120, Haagen Dazs 108 & 120, Gyros 120, Panna Express 122, Papa John's 310 & 323
April 1st
Stands: Prime Grill 105, 117, Downtown Dog 112 & Papa John's 113 (Only these highlighted locations will be open for the school show)
Bars: Grey Goose 107, Bacardi Bar 118 (evening show only)
Carts: Frozen Yogurt 112, Donuts 108, Nuts 112, Kosher 120, 319, Haagen Dazs 108 & 120, 309, Gyros 120, Panna Express 122, Papa John's 310 & 323
April 2nd
Stands: Prime Grill 105, 117, 308, 324, Chicken Ciao 108, Downtown Dog 112 & Papa John's 113
Bars: Grey Goose 107, Bacardi Bar 118 (2pm & 6pm Shows only)
Carts: Frozen Yogurt 112, Donuts 108, Nuts 112, Kosher 120, Haagen Dazs 108 & 120, Gyros 120, 325, Panna Express 122, Papa John's 310 & 323
April 3rd
Stands: Prime Grill 105, 117, 308, 324, Chicken Ciao 108, Downtown Dog 112 & Papa John's 113
Bars: Grey Goose 107, Bacardi Bar 118 (2pm & 6pm Shows only)
Carts: Frozen Yogurt 112, Donuts 108, Nuts 112, Kosher 120, Haagen Dazs 108 & 120, Gyros 120, 325, Panna Express 122, Papa John's 310 & 323